Commercial Roofing
Do you have ponding water on your roof? Are your roof drains clogged? Is the perimeter flashing damaged or missing? Are there open roof penetrations? Is your roof membrane split or blistered? Do you have an aging roofing system? Or do you need Metro to determine the condition of your roof? Call today for an expert evaluation and a responsive repair crew!
Customers have two options when it comes to the company's roofing division: roof service or new construction services. Whether you need a simple patch job or a complete re-roof after a catastrophic storm, Metro is the name to know when you want responsive service, comparable rates, and quality customer care.
Being a qualified roofer is more than just showing up with tools; contractors should also be licensed, insured, and experienced in repairing and replacing roofs of all sizes using a variety of materials. Customers find peace of mind knowing Metro is an authorized applicator for all of the major roofing manufacturers including Firestone, GAF, and Johns Manville.
To ensure customers' roofs are thoroughly investigated, Metro technicians follow at 10-point inspection. A written report is compiled and digital photos are sent. When repairs are made and completed, before and after pictures are included with the invoice for services.
Our commercial roofing division boasts decades of experience in re-roofs, re-covers and large-scale roof repairs. Metro Property Services is our customers' first choice in all roof-related items.
Metro Property Services provides company branded uniforms, equipment, safety gear, and vehicles to its employees so they can be easily identified while on job sites, in customers' buildings, and on the road. The fleet of vehicles consists of 15 trucks, cargo vans, trailers, one bucket truck, and one pressure washing trailer with water buffalo. This […]
Read More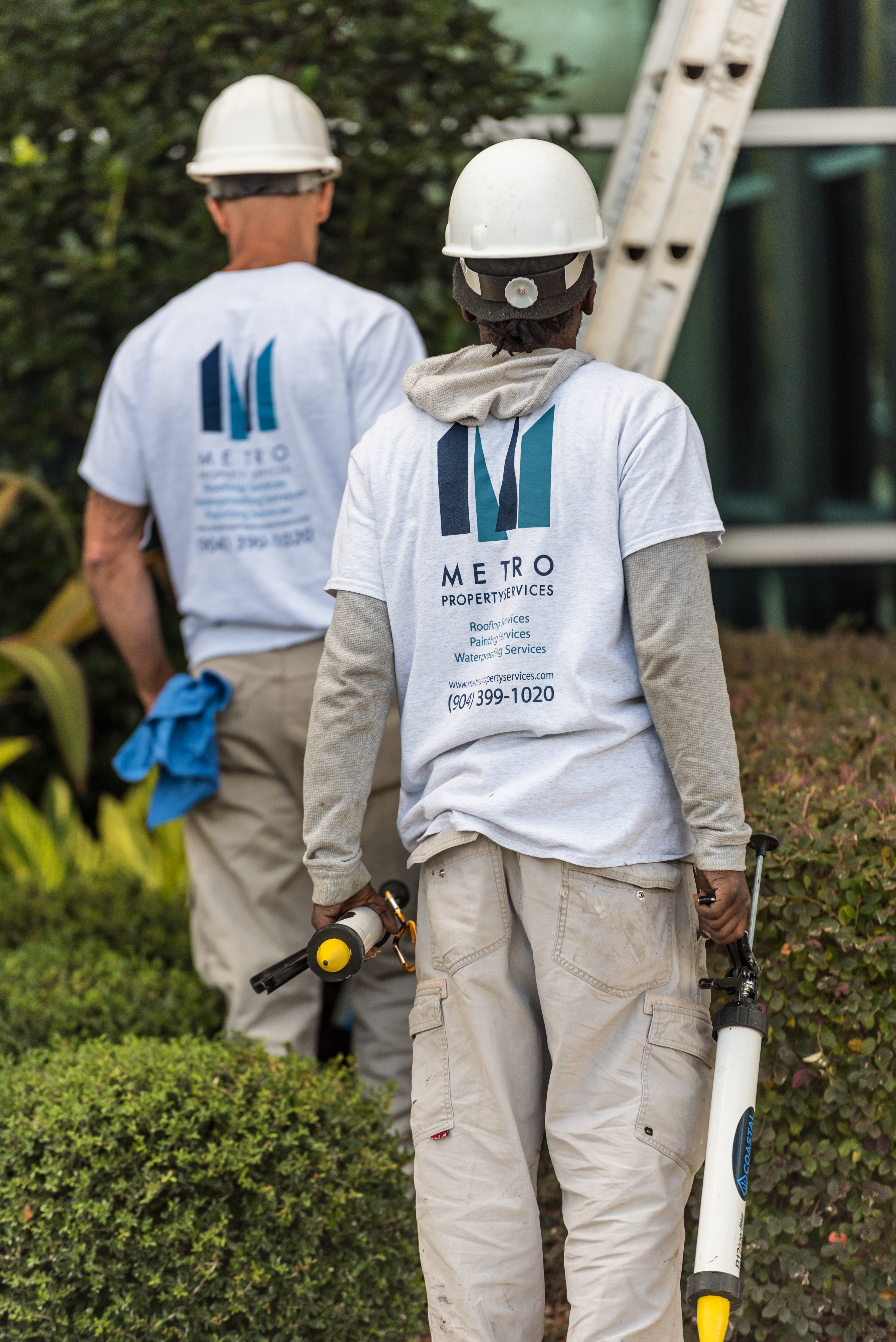 John Moore, the President of Metro Property, believes his employees make the difference and are key to the success of realizing the company's vision. Metro Property Services invests in its employees by providing training and equipment to ensure they have a professional, quality workforce for their customers and building tenants. Following a rigorous background screening […]
Read More
Additional Roofing Services
Roof Coatings
An alternative option to a re-roof or re-cover is an applied coating which provides waterproofing and energy saving to existing buildings. The white coatings can provide substantial energy savings which will translate into lower electric bills for owners and tenants alike. Depending on the coating system selected, the product may qualify for up to a ten (10) year renewable warranty.
Gutter Repair and Installation
Since gutters direct water away from the building's foundation to avoid costly foundation damage, customers need experienced technicians capable of removing, fabricating and replacing all types of commercial gutters, downspouts, copings and custom flashings on small and large buildings and facilities. Metro roofers are knowledgeable of the building requirements and place gutters in the most ideal positions to protect buildings from damage caused by ponding water.
Roof Inspections
Roofs are like cars—if you don't maintain them they won't perform when you need them most. Metro Property Services recommends all buildings have an annual roof inspection to identify issues created by long-term exposure to the elements, structural movement, debris accumulation, and vegetation growth. Regular inspections and maintenance can keep the manufacturer's warranty intact and help maintain the water tight integrity for years to come. Technicians provide a comprehensive report complete with pictures of the roof structure.
Roofing Manufacturers
Customers can find peace of mind when hiring Metro Property Services Roofing Division because the company is factory-certified with most of the roofing manufacturers in the United States. Factory certification requires contractors to be properly licensed, adequatly insured, have a proven reputation for providing quality services, and committed to ongoing training.